Clean Burn Furnaces:
Clean Burn multi-oil heating systems let you safely and economically burn used oil generated on site. It provides free heat — dramatically cutting or eliminating your heating costs — while eliminating your used oil liability and disposal costs.
Clean Burn products are UL-listed, meet all EPA requirements, feature advanced combustion technology and carry a 10-year limited warranty.
Not all used-oil-fired furnaces are built alike. In fact, many so-called used-oil furnaces are merely adaptations of conventional fuel-oil heating systems. Not so with Clean Burn. Every Clean Burn furnace is designed exclusively to burn used oil–and burn it efficiently, safely, and reliably. From the design of the burner and heat exchanger to the distributor who installs and services it, a Clean Burn furnace is your best choice in used-oil heating and recycling. Here's why over 100,000 owners chose Clean Burn.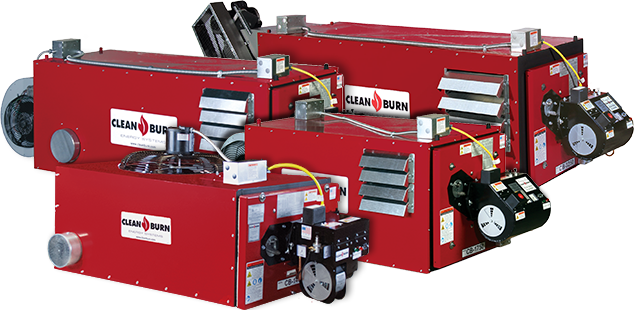 Heavy Duty Construction
A combustion chamber made of heavier, thicker steel results in extra durability. On average, our furnaces weigh up to 200 lbs more than similar sized competitive furnaces. more than many competitive furnaces
Three-Pass Heat Exchanger
Large, round flow tubes are staggered to enhance air flow and provide higher BTU output, higher efficiency and lower stack temperatures.
Patented burners with pre-heater block
An innovative burner designed exclusively to burn used oil. Pre-heater block assembly heats the oil and air supply to ensure consistent oil viscosity and temperature to the nozzle for complete combustion. Swing-away burner design provides quick, easy access to the combustion chamber. No need to disconnect oil, air and electrical lines.
Heavy Duty Oil Pump
A beefy fuel flow control pump allows the furnace to be installed up to 250 ft. from the oil storage tank. It also permits the use of an outside storage tank where, in colder temperatures, many competitive pumps can't function.
Complete Versatility
Unique Clean Burn furnace design allows for installation versatility and even heat distribution. Furnace can be ceiling hung or placed on a stand as part of a work bench tank system. Burner design permits the use of readily available shop air or fitted with a Clean Burn unit-mounted compressor.
Easy Maintenance
Larger flue passageways than found on many competitive furnaces means longer operational time between routine cleanings. On average, a Clean Burn furnace only requires cleaning every 700 to 1000 hours, as compared to every 350 hours or less for many competitive units.
Industry Leader since 1979
Clean Burn's industry leading research and development of used-oil burning technology and state of the art manufacturing coupled with DSi's professional sales representatives, factory trained installation and service technicians, toll free technical support with genuine Clean Burn replacement parts have made us the Industry Leaders.